How to Use White Papers to Grow Your Content Marketing Strategy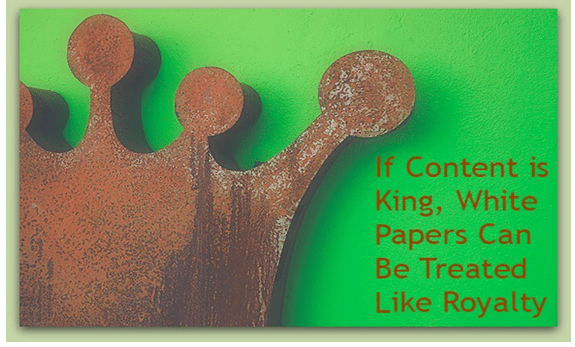 We are continuing with our Content Marketing series. In this article, we are sharing ways to use white papers to grow your content marketing strategy.
Still unsure about what a Content Marketing Strategy is all about? Then, click this link and read our introductory article that outlines the definition of content marketing and its many benefits.
According to Top Rank, B2B marketers use an average of 12 content marketing tactics. White papers can be used as one aspect of this strategy. In fact, 61% of the savvy B2B content marketers are using White Papers. The main purpose of a white paper is to document and industry related information. When a brand or organization is able to draft quality white papers, many benefits are reaped, including an enhanced content marketing strategy. White papers should be used to promote and highlight key features of your products, share your services or hone in on a solution to industry specific problems. When your white papers meet these objectives, you will be able to position your brand as a trusted thought leader that can solve industry related problems. This will help to generate more leads and increase sales.
Here are Steps on How to Use White Papers to Grow Your Content Marketing Strategy:
Build credibility early: For a white paper to be effective, you must get your reader's attention early on and be perceived as an authority on the topic within the first paragraph.  You can do this by writing objectively and speaking in a clear and unbiased tone. Also, quote reputable third party sources with data that can be researched and fact checked. It is best to state the problem that you will be solving with your product or service early on. This helps to draw the reader in so that they will keep reading your white paper.
Be a Problem Solver: A good white paper will quickly identify problems or concerns that are faced by your industry. The white paper will also lead readers down the path to a solution. Ideally, the solution will be provided by your particular product or service.
Use Your White Paper to introduce a new class of products: This can be done by writing about something that has never been addressed. Or, you can produce a white paper that gives a unique approach to an old product.
Share Your White Paper: Because White papers provide valuable material, they can make your social posts more interesting.White papers can be shared in one of two ways via social media. You can simply pull out relevant statistics and findings, using each piece of information as a separate tweet or Facebook post. Or, you can share a white paper in its entirety, directing your followers to download a page on your website or to the publisher's website.
White Papers are an easy solution for small businesses that struggle with producing valuable content. As a growing number of online consumers continue to look to content that offers tips, tools and resources, companies will need to find new ways to meet this demand. White Papers are a powerful marketing tool that can be used to educate your leads and prospects and grow your business.
So, what do you think? What has worked for your content marketing strategy?