3 Reasons Why Your Business Should Be Blogging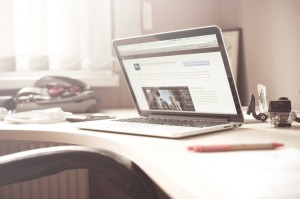 Whether you're a start-up or an established corporation, chances are you're wondering if blogging is worth your time. Generally, "blogging" is referred to as an online journal or diary. More recently, however, blogging has become a dynamite tool for businesses. When updated regularly, blogs can be an extremely cost-effective marketing method that boosts your credibility and customer relationships with just one or two posts weekly. By just writing about what you know best, you can shine as an expert in your field.
Big names like American Express, Facebook, and Sony are all actively blogging, and here's why you should be too:
1. Boost Search Engine Optimization: Fresh content is a sure fire way to climb up the first page on Google, which is just about every business' goal, large or small. According to a post by Michigan Tech University about improving your site's rankings, "quality content is the number one driver of your search engine rankings and there is no substitute for great content." Blogging is the perfect solution to providing new, exciting content for SEO and your target audience on a regular basis. Boosting your SEO will drive new prospects to your website.
2. Establish Authority: Steve Olenski of Forbes said in his article on blogging, "As relevant and popular social indicators continue to increase in relevance relative to search engine optimization and other technical concerns, true authority building and reputation management tactics have grown in prominence with them." Blogging not only boosts attention to your website, but it establishes authority among your peers and prospects. In fact, the two go hand in hand. By providing valuable, relevant information to your target audience, you will build trust and presence within your industry, while simultaneously boosting your SEO. This can be especially helpful for small businesses to build credibility and recognition.
3. Build Relationships: While establishing authority in your industry, you will also be building relationships through your blog posts. Asking questions and engaging your readers through comments will gain insight on your customer's needs as well as allow you to become a trustworthy source of information for them. Posting to a blog also shows customers and prospects a more personal side to your business. They will be able to get to know you and see a real personality behind your brand. Using tags, you will also be able to connect directly to your demographic, and spend less time weeding out unqualified prospects. Building relationships with your target market through blogging will start turning into leads. According to an infographic by Social Media Today, small businesses with blogs generate 126% more leads than those who are not blogging.
So, if you're still wondering whether or not blogging is worth your time, the answer is yes! Blogging is a vital part of your business' growth, and can be an extremely flexible and affordable way to draw traffic to your website, establish authority, and connect with your demographic.